San Jose, California — Bright Computing, the leading, vendor-independent provider of management solutions for clusters and clouds, is proud to announce the role Bright Cluster Manager® plays in Intel's "Cherry Creek" supercomputer, which recently received TOP500 and Green500 rankings. The TOP500 quantifies performance for HPC, whereas the Green500 ranks systems based on their energy efficiency. Bright accelerates deployment of the Intel Xeon processors and Intel Xeon Phi coprocessors in this transportable configuration that maximizes performance for HPC while minimizing energy use.

Bright Cluster Manager provisions, monitors and manages the multicore Intel Xeon processors and many-integrated core (MIC) Intel Xeon Phi coprocessors that collectively make up Cherry Creek's 10,000 cores. Bright also manages Cherry Creek's interconnect fabric based on low-latency, high-bandwidth Intel Truscale fabric. Additional Bright-managed software includes the Intel Composer XE 2013 compiler, Intel MKL library and Intel MPI. Bright integrates workload-management capabilities so that applications take advantage of the native and offload execution models presented by Cherry Creek's neo-heterogeneous architecture - a heterogeneous system with a single programming model. Finally, Bright collects metrics and executes health checks to ensure Cherry Creek performs according to its theoretical peak performance of almost 200 TFlops/s.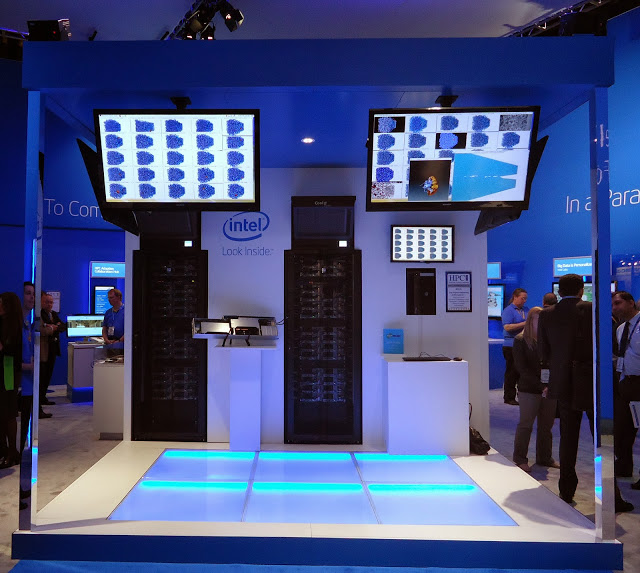 "Cherry Creek presented the opportunity to demonstrate neo-heterogeneous architecture's ability to deliver TOP500 class performance to researchers, engineers, and scientists quickly and efficiently" said Hugo Saleh, Director of Marketing, Intel Technical Computing Group, "Bright Computing, with their Bright Cluster Manager, significantly accelerated deployment of the Cherry Creek cluster by providing unified software management for both Intel Xeon processors and Intel Xeon Phi coprocessors."

"Bright Computing works closely with Intel to support its ecosystem of hardware and software on an ongoing basis," stated Bright Computing CEO Dr. Matthijs van Leeuwen. "This collaboration raises awareness of both company's offerings. We are delighted that Bright Cluster Manager accelerated Intel's efforts, and congratulate them on achieving impressive TOP500 and Green500 rankings with Cherry Creek."

Intel Data Center Demos designed Cherry Creek and contracted Supermicro to manufacture it. Cherry Creek ranked 400th on the 42nd edition of the TOP500 list based on a Linpack performance of 131.5 TFlop/s. According to Intel: "Within a year after the introduction of Intel's first Many Core Architecture product, Intel Xeon Phi coprocessor-based systems already make up 18 percent of the aggregated performance of all TOP500 supercomputers." Cherry Creek's Green500 ranking of 41 is based on its energy efficiency of over 1800 MFLOPS/W.

Cherry Creek was present in the Intel booth at SC13.
About Bright Computing
Bright Computing is transforming the way clusters are managed in the modern data center. Founded in 2009, Bright's award winning cluster management software lets users monitor and build clusters of any size that are easy to provision, operate, monitor, manage, and scale. Bright partners include Amazon, Cisco, Cray and Dell. Customers include Boeing, NASA, Roche, Stanford University and the Tokyo Institute of Technology. Bright's technology is running in over 500 data centers all over the globe. Bright has been recognized as a Red Herring Top 100 company and a Deloitte Rising Star winner, and was named Bio-IT World's "Best of Show."
Pictures and screenshots of Bright Cluster Manager
http://www.BrightComputing.com/Press-Center
For more information
Bright Computing, Inc.
Mr. Ian Lumb
2880 Zanker Road, Suite 203
San Jose, CA 95134
USA
Tel: +1 408 520 9082