San Jose, California — Bright Computing, a leading provider of management solutions for clusters and clouds, today announced the release of Bright Cluster Manager® for OpenStack. This add-on for version 7 of Bright enables customers to deploy OpenStack private clouds on bare metal servers, providing a complete OpenStack solution with full life-cycle management.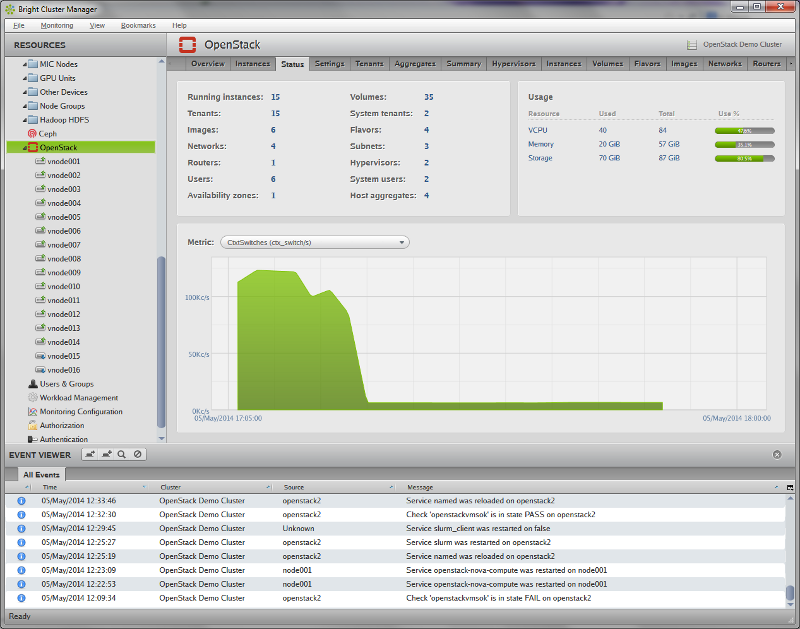 Integrating provisioning of the physical cluster with the Icehouse release of the OpenStack software stack, Bright Cluster Manager 7 greatly reduces the time and effort required to get a private cloud into production.
Bright Cluster Manager 7 for OpenStack automates the complicated configuration and setup operations every OpenStack cloud demands, so system administrators don't have to manage configuration files manually. Bright's headache-free network configuration greatly simplifies the task of networking OpenStack servers together.
Storage management is handled using Ceph, a unified, high-performance, distributed storage system. By decoupling the physical storage this way, systems administrators need not concern themselves with tracking storage in the cloud.
Bright's integrated OpenStack monitoring and health checks let operators find and fix problems quickly, sometimes even detecting impending failures before they occur.
"We have long supported the ability to manage clusters running on physical servers, and in public clouds. Bright Cluster Manager 7 for OpenStack expands our cloud management capabilities into on-premise private clouds, giving customers more options to choose from when deploying their infrastructure," said Dr. Matthijs van Leeuwen, Founder and CEO of Bright Computing. "Bright Cluster Manager 7 enables customers to build their own in-house alternative to public clouds, giving them much more flexibility in controlling their productivity and their infrastructure costs."
About Bright Computing
Bright Computing is transforming the way clusters are managed in the modern data center. Founded in 2009, Bright's award winning cluster management software lets users monitor and build clusters of any size that are easy to provision, operate, monitor, manage, and scale. Bright partners include Amazon, Cisco, Cray and Dell. Customers include Boeing, NASA, Roche, Stanford University and the Tokyo Institute of Technology. Bright's technology is running in over 500 data centers all over the globe. Bright has been recognized as a Red Herring Top 100 company and a Deloitte Rising Star winner, and was named Bio-IT World's "Best of Show."
Pictures and screenshots of Bright Cluster Manager
http://www.BrightComputing.com/Press-Center
For more information
Bright Computing, Inc.
Mr. Lionel Gibbons
2880 Zanker Road, Suite 203
San Jose, CA 95134
USA
Tel: +1 408 337 6076