San Jose, California — Bright Computing, the leading, vendor-independent provider of management solutions for clusters and clouds, announces a preview of next-generation Bright Cluster Manager® at SC13 featuring support for Hadoop clusters, OpenStack clouds and more. Now, in addition to its leading HPC cluster management capabilities for datacenters and AWS clouds, Bright provisions, monitors and manages Big Data clusters and private clouds making it an even more comprehensive management solution.
Big Data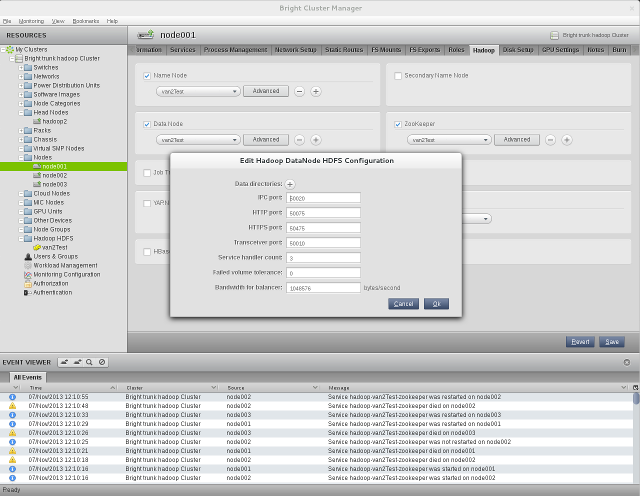 Using your choice of leading Hadoop distributions, Bright Cluster Manager provisions, monitors and manages Hadoop clusters. It employs Bright roles to make it easy to configure Hadoop services such as HBase, YARN and ZooKeeper. Bright collects metrics and performs healthchecks for Hadoop that target HDFS, JVM, job and network activity. Bright integrates with MapReduce and YARN to manage Big Data workloads efficiently, and ensures high availability of vital Hadoop services.


Private Cloud
Bright Cluster Manager provisions, monitors and manages OpenStack private clouds. Bright bundles OpenStack, installs it, and uses Bright roles to configure OpenStack. Bright collects metrics and performs healthchecks that target individual OpenStack tenants (e.g., various quotas) as well as the cloud as a whole. Bright bundles, installs, configures, monitors and manages Ceph for object and block storage, and will use Open vSwitch for OpenStack networking services. Bright can boot OpenStack virtual machines and manage them as if they were physical nodes, and manages the software images they use. Bright makes vital OpenStack services highly available.


More New Features
Revision Control for Images -- Bright Cluster Manager now has a revision-control feature for the software images used in provisioning clusters and clouds. It uses btrfs snapshotting or cloning.

Cloud Utilization -- Bright works with storage services native to Amazon Web Services (S3 and Glacier). Bright instantiates compute resources in the cloud only when data is actually ready for use by applications. It also automatically starts and stops nodes in the cloud based on workload in the queuing system.


Cisco UCS -- Bright Cluster Manager has full support for Cisco UCS servers, and takes full benefit from the integrated Unified Computing System (UCS) technology. Bright manages bare-metal BIOS settings and multi-node firmware upgrades, out-of-band services (e.g., power) and integrates directly with the Cisco Integrated Management Controller (CIMC) to configure network, identity and other services. Finally, Bright samples a multitude of metrics and incorporates various health checks specific to Cisco UCS rack servers.

Next-gen Bright Cluster Manager will be demonstrated live in Bright Computing booth #1725 November 18-21 at SC13 in Denver, Colorado.
About Bright Computing
Bright Computing is transforming the way clusters are managed in the modern data center. Founded in 2009, Bright's award winning cluster management software lets users monitor and build clusters of any size that are easy to provision, operate, monitor, manage, and scale. Bright partners include Amazon, Cisco, Cray and Dell. Customers include Boeing, NASA, Roche, Stanford University and the Tokyo Institute of Technology. Bright's technology is running in over 500 data centers all over the globe. Bright has been recognized as a Red Herring Top 100 company and a Deloitte Rising Star winner, and was named Bio-IT World's "Best of Show."
Pictures and screenshots of Bright Cluster Manager
http://www.BrightComputing.com/Press-Center
For more information
Bright Computing, Inc.
Mr. Ian Lumb
2880 Zanker Road, Suite 203
San Jose, CA 95134
USA
Tel: +1 408 520 9082