San Jose, California — Bright Computing, the leading, vendor-independent provider of management solutions for clusters and clouds, announces today that the Swiss National Supercomputing Centre (CSCS) has evaluated Bright Cluster Manager® in order to assess its strengths and weaknesses.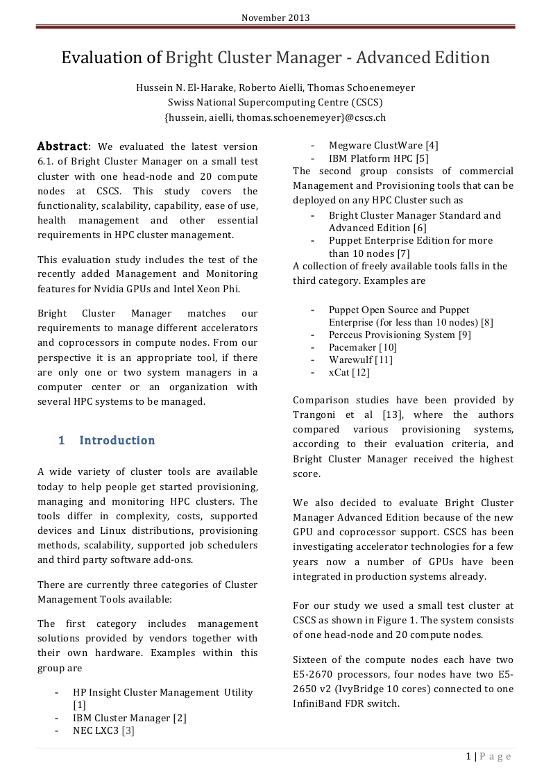 CSCS built a 20-node cluster to evaluate Bright Cluster Manager. The cluster included both NVIDIA GPU accelerators and Intel Xeon Phi coprocessors so that they could investigate the capabilities of Bright Cluster Manager with hybrid architectures. CSCS confirmed that Bright supports Kepler-architecture GPUs (NVIDIA Tesla K20X GPU accelerators) and the latest version of the CUDA toolkit (CUDA 5.5). Their evaluation also confirmed that Bright significantly eased the provisioning process of systems with Intel Xeon Phi. The evaluation report noted Bright's integration with the entire Intel software stack and the Slurm workload manager. Bright-integrated Slurm lets users take advantage of multiple execution modes in this CPU-coprocessor architecture. CSCS also validated that both accelerators and coprocessors can be monitored and managed alongside CPUs in their evaluation cluster.
According to the CSCS evaluation, Bright Cluster Manager allows one or two systems administrators to effectively and efficiently manage complex heterogeneous systems or multiple clusters.
"There's a growing interest in production use of hybrid-architecture systems in our HPC centre", stated Hussein Harake of CSCS. "This means we need to be able to provision, monitor and manage systems with accelerators and coprocessors with minimal administrative overhead. Our evaluation of Bright Cluster Manager demonstrated that it met our needs in a satisfactory way."
CSCS's evaluation is available for download from their Web site.
About Bright Computing
Bright Computing is transforming the way clusters are managed in the modern data center. Founded in 2009, Bright's award winning cluster management software lets users monitor and build clusters of any size that are easy to provision, operate, monitor, manage, and scale. Bright partners include Amazon, Cisco, Cray and Dell. Customers include Boeing, NASA, Roche, Stanford University and the Tokyo Institute of Technology. Bright's technology is running in over 500 data centers all over the globe. Bright has been recognized as a Red Herring Top 100 company and a Deloitte Rising Star winner, and was named Bio-IT World's "Best of Show."
Pictures and screenshots of Bright Cluster Manager
http://www.BrightComputing.com/Press-Center
For more information
Bright Computing, Inc.
Mr. Lionel Gibbons
2880 Zanker Road, Suite 203
San Jose, CA 95134
USA
Tel: +1 408 337 6076